Heading to New York City? As you might be aware, there are several boroughs in this city, which is home to millions of people!
We teamed up with Expedia.com to help you navigate the large metropolis. Start off by checking out the many NYC hotel options on Expedia.com to decide where you want to put your feet up at night. Once you've figured out where you want to stay in New York, you're going to need to know how to get around New York to all the sights you've come to the city to see.
Well, with our definitive guide, you're going to learn all the different options you have for getting around New York. This will include all the major New York transport options, as well as tips for using each one.
Once you've read this, check out our guide to spending 2 days in New York, which has a detailed itinerary and lots of tips on what to see in the city. Now, let's get started with our guide to getting around NYC.
How to Get around New York City
As you'll see from this list you have a lot of options when it comes to getting around New York City. This is to be expected, after all, New York is the most populated city in the United States.
With over twenty million residents in the New York metropolitan area, which is spread across five main boroughs, it's easy to see why there are so many ways to help them get around!
Here are some of the best ways to get around the city when you visit.
1. Taxi
The iconic yellow taxi is certainly a popular way to get around the city with residents and visitors alike. The yellow taxi is easy to recognise, being bright yellow, and having a yellow light on the roof. These yellow taxis are the only vehicles that are allowed to pick passengers up in response to a street hail across the entire city.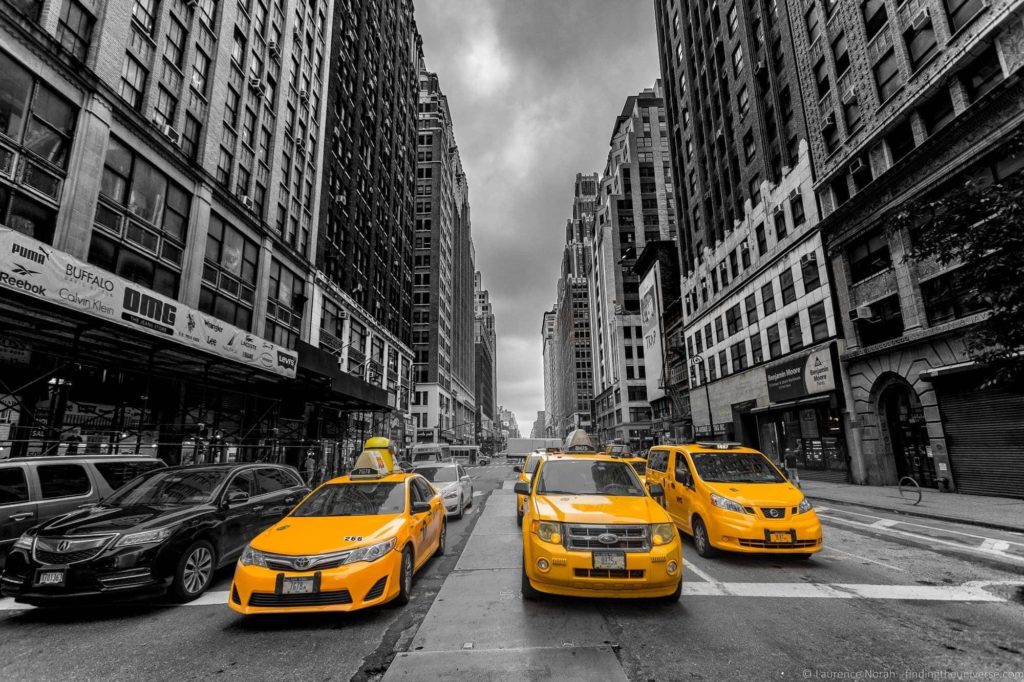 A taxi shows it's availability by illuminating the yellow light. An illuminated light means the taxi is available for hire. To hail a taxi, you just need to attract the drivers attention, usually by waving from the street corner.

Once the taxi sees you, they will stop somewhere safe to pick you up. Let the driver know your destination address. Taxis are metered, with fares starting at $3, and then increasing as time and distance pass – you can see the fares here. Note that tolls will also be added to your taxi fare. New York taxi Fares can be paid in cash, or with a credit or debit card.

It's definitely worth taking a taxi in New York just for the experience. It's not a big expense, particularly for shorter rides.

There are of course alternatives to the yellow taxi, including ride-sharing services such as Uber and Lyft. These need to be booked in advance using their apps, and do generally work out cheaper than a yellow

…