This article or section refers to "enhanced version" content in the Xbox One, PlayStation 4, and PC renditions of Grand Theft Auto V and/or Grand Theft Auto Online, that is absent on the Xbox 360 or PlayStation 3 versions.
For a complete list of the features of the "enhanced" version of Grand Theft Auto V, please see here.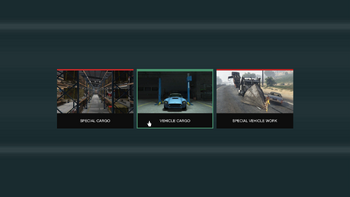 Vehicle Cargo is a CEO mission featured in Grand Theft Auto Online as part of the Import/Export update.
Overview
"Welcome to SecuroServ's real-time database of vulnerable high-end vehicles across San Andreas. Hit the 'Source Vehicle' button to instantly pinpoint the location of your next golden opportunity."
Vehicle Cargo missions are relatively straight forward compared to Special Cargo, where the player can fill their Vehicle Warehouses with up to 40 stolen vehicles. When exporting them, the player can sell 1 to 4 vehicles at a time depending on the number of associates the player has in their CEO Organization in the session. There are also collections of vehicles that can be sold together, retrieving and successfully exporting the vehicles that complete a collection will offer bonus payments made to not only the CEO but to the associates as well.
Vehicle cargo missions can only be conducted in Public Free Mode sessions, but there is no minimum player limit so a player alone in a public lobby can participate, but will be limited to exporting single vehicles at a time and will be unable to export any collections.
Completing Vehicle Cargo missions unlocks the "Special Vehicle Work" missions, every 4th car successfully warehoused will unlock one of the eight special missions available. In order to unlock all of them, 32 cars must be warehoused.
When sourcing vehicle cargo or when exporting it, the rest of the players in session will receive a message alerting them of the organization moving vehicle cargo, once the global signal countdown is over. The vehicle cargo will be represented then by a blinking red car in the map.
If another player not belonging to the organization gets in one of the cars, they can bring it to a police station and earn $5000 in cash, or bring it to their warehouse if they have one and are currently registered as a CEO. In the latter case, they will have to pay for any damages, similarly to when they source a vehicle the usual way.
Source Vehicle Cargo
"Steal the sourced vehicle and deliver it to the warehouse. Mission difficulty is scaled based on the marked value of this vehicle."
"Take care of the Vehicle during delivery The more damage it takes the higher the repair cost will be."
"The vehicle will need to be repaired if it becomes too damaged. The more damage it takes the higher the repair cost will be. The CEO will be charged by the mechanic upon delivery to the Warehouse."
Vehicle missions
…