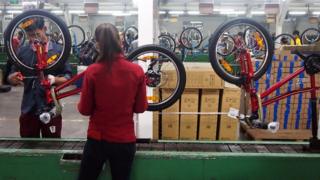 Made in Cambodia is a common label on clothing from shirts and skirts to cycling shorts, but these days there's a good chance the bicycle itself will also have been made there.
The south east Asian nation is making the most of shifting global trade patterns to diversify its economy, and it is now listed as the fifth-largest exporter of bicycles in the world after China, Taiwan, the Netherlands and Germany.
But concerns over democratic freedoms mean there could be bumps in the road ahead.
At the Bavet Special Economic Zone, right on Cambodia's border with Vietnam, and just 50km north west of Ho Chi Minh City, the industry is gearing up to make the most of growing demand.
Inside a factory belonging to Taiwanese-owned firm Speedtech, bicycle frames hang from hooks like meat carcasses at a market.
Workers, some in protective goggles or welding masks, are engrossed in their tasks along the production line, ignoring the biting scent of spray paint. The starting salary of $350 (£268) a month compares well with the garment industry, but the air is humid and heavy, and when the monsoon downpour arrives in early afternoon there's a whoop of delight but no pause in production.
When Speedtech first arrived at Bavet in 2013 it was only doing final assembly, says vice-general manager, Aliette Tong. Now the workers weld and paint frames too. The factory can turn out up to 2,000 bicycles a day if the demand is there, he adds.
But the industry still has shallow roots.
At Speedtech everything other than the frame is imported from Malaysia, Indonesia, Japan or China, explains Mr Tong. Even the steel used to make the frame is imported from China.
"In this period, parts makers are more are interested in Vietnam," he says.
Rivals is a season of in-depth coverage on BBC News about the contest for supremacy between the US and China across trade, tech, defence and soft power.
Read more here.
Moreover, the finished bicycles are exported, not from Cambodia's main port at Preah Sihanouk, which is a gruelling nine-hour drive to the west, but via Ho Chi Minh City's Cat Lai port, four to five hours east of here, even though that entails additional customs processes at the border.
China's loss
What prompted Speedtech to move its operations from Vietnam to Cambodia in the first place, alongside two other Taiwanese-owned manufacturers, A & J and Smart Tech, was a decision by the European Union in 2005 to impose anti-dumping measures on Vietnam, making Vietnamese exports more expensive.
Global Trade
More from the BBC's series taking an international perspective on trade:
A similar pressure

…