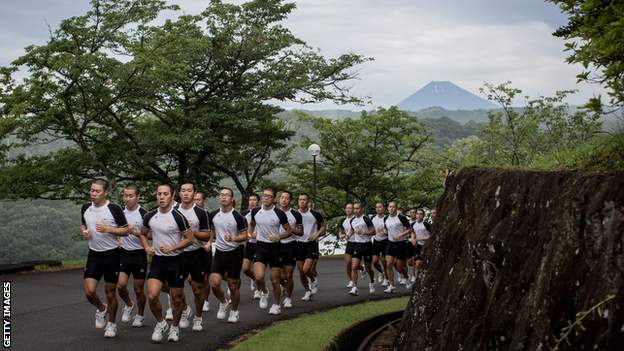 They bow as they walk their bikes onto the track and they do so again as they slot them into the start gates.
They have no coach, no mechanic, no team. They have assembled their bikes single-handedly. Some say a prayer, others throw salt over their chains as a blessing before the race begins.
Each of them is wearing a different brightly coloured jersey with matching helmet. They had not long ago arrived in suits, as tradition dictates.
Keirin racing is about respect, integrity and dedication. In Japan, it's a serious business.
Fans of track cycling will know keirin as the event that has seen Sir Chris Hoy, Jason Kenny and Victoria Pendleton take their place on the top step of the Olympic podium.
Those who watch only when the Games roll around every four years may remember it as the race in which riders are led out by a motorised pacer.
Yet in Japan, it's a £10bn industry, potentially lucrative for riders and fans alike as one of only four sports you can legally bet on. Its annual showpiece attracts more in wagers than is gambled over the entire British horse racing season.
Keirin isn't just a sport in Japan. It goes deeper than that.

Hoy is walking around a school in Izu, some 200km and a two-hour bullet train journey from Tokyo. It's an idyllic setting, situated atop a mountain with Mt. Fuji an imposing presence in the distance.
The last time he was here was in 2005 – three years before he won the first of his two Olympic keirin gold medals. Looking around his old room, he uncovers a sticker with his name on, which he had hidden safely behind a ceiling panel 15 years ago.
"Nothing has changed," he says.
This is no ordinary school. This is keirin school, where just 10% of applicants are accepted. Only the very best get to come here.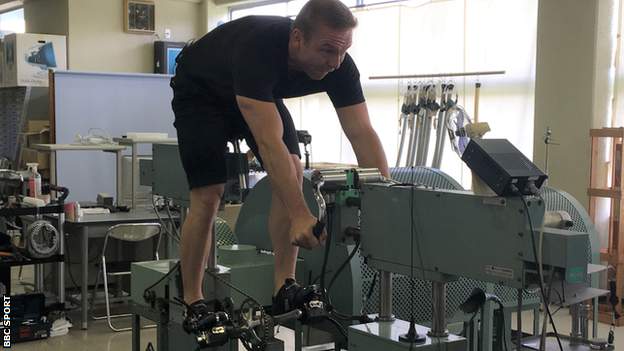 "It's a place of tradition which focuses on respect, self-control, and honesty, along with the knowledge necessary to be a professional keirin rider," Hoy adds.

Keirin school is part military academy, part training camp. The day starts at 6:30am with roll call and finishes at 10pm with lights out, for six days a week, 11 months of the year.

In between, students have structured training and education sessions. Training could be on the bike, on foot or in the gym, while education sessions are both academic – studying tactics, theory and race rules in the classroom – and practical. Students also learn about bike mechanics in the workshop.

Throw in meal times – students consume more than 1,000 calories at breakfast and 4,500 at dinner – cleaning responsibilities and extra exercise and there's very little time for anything else.

Everyone wears the same uniform. There are televisions, but no mobile phones, no email access

…