Bicycle Handlebars For Touring
When you see different touring bicycles, you will notice a variety of bicycle handlebars. But which style is best for you and your tour?
Selection Criteria
So when you choose a handlebar for your bicycle, you should pay attention to a number of factors:
Number of different hand positions available – While touring, I prefer to switch my hand positions regularly to eliminate or reduce hand and wrist problems. If your hands stay in an unusual position for too long, the pain can be unbearable as time passes. So a bicycle handlebar with one or two hand positions may be fine for certain tours and terrain but not others. Also, certain hand positions allow more leverage for hill climbing.
Body posture – Different touring conditions require different body posture positions. If you are battling a head wind for hours, an upright position will just exhaust you quickly. So you will want to be able to get low with your head down. While some bicycle handlebars will stretch you out more to get you lower, your body may put more weight on your hands and wrist, resulting in severe pain. And if you tour mainly off road, terrain will be more of a factor than wind. Consequently, you will want a handlebar that allows plenty of climbing leverage and quick turns.
Stem clamp compatibility– Mountain or hybrid style stems require compatible handlebars and the same for road stems. A mountain/hybrid stem has a clamp diameter of 25.4mm. A regular road stem clamp will be 26.00mm. Compatible handlebars will have the corresponding clamp area, which is not the same as the rest of the bar. A few mountain bars and an increasing number of road handlebars utilize an oversize stem clamp diameter of 31.8mm.Other factors relating to the stem and handlebar will include stem height and length. If the shape of the handlebar is different from your existing bar, you may have to shorten or lengthen your stem to keep your arms at a comfortable stretch. The same applies to the change in height due to the new handlebar. You can raise or lower your handlebar by replacing the stem with an adjustable stem. However, as you change the height of the handlebar, you will also be changing the length of the stem in relation to the distance from the seat to the handlebar. So you may have to buy a different stem length with the adjustable stem.
Brake levers/shifters compatibility – Mountain bike brake levers and shifters fit mountain style handlebars, which have a diameter of 22.2mm where. Road bike brake levers and barend shifters require handlebars of 23.8mm diameters. In other words, you can't install road brake levers on mountain bike handlebars.
Back to Top
Mountain (Straight) Handlebars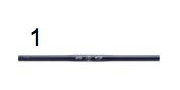 Mountain style handlebars are great for off-road terrain, but typically they have just one hand position (see number on photo). If you add barends, then you can add another hand position.

If you need to get low

…