One of the most important documents that you need in order to transfer a title of a property from the seller to the buyer is the Certificate Authorizing Registration (CAR) and Tax Clearance (TCL) from the Bureau of Internal Revenue (BIR). In this post, I'll share a step-by-step on how to secure them.
The CAR and TCL is your proof that the proper taxes on the transaction have been paid. The Register of Deeds requires the presentation of these documents as a pre-requisite for title transfer. See sample CAR below, which is from one of my husband's transactions (with details blurred out).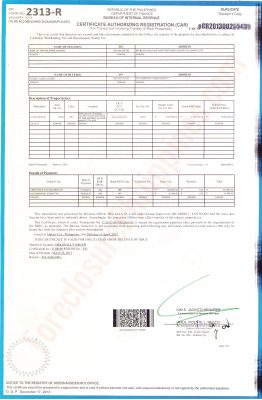 What is the process?
The first step is to have a notarized document evidencing the sale of the real property classified as a capital asset, usually a Deed of Absolute Sale. You may find samples of this document through google, including here and here.
Next, the taxes need to be paid. You may refer to previous posts on Capital Gains Tax (CGT) and Documentary Stamps Tax (DST).
After you have paid the taxes, you need to request for the issuance of a CAR and TCL from the Revenue District Office where the real property is located. You need to submit the documents supporting the transaction, as well as proof that the correct taxes (both the type of tax and amount of tax), have been paid. The Checklist of Documentary Requirements is in the annexes of Revenue Memorandum Order (RMO) No. 15-03, in particular, Annex "A". For additional documents, refer to Revenue Memorandum Circular (RMC) No. 76-07 dated October 25, 2007.
The process flowchart is in Annex "L" of the Annexes of RMO 15-03.
Please take note that the CAR for the transfer of real property shall be released by the Revenue District Office (RDO) where the real property is located. Thus, it is important for you to determine the correct RDO since you will be paying the taxes in the Authorized Agent banks (AAB's) of such RDO.
It is possible that you may think a property falls under the jurisdiction of one RDO when in fact it is under another RDO. If you have already paid the taxes in an AAB of another RDO, you may have to undergo certain processes to transfer your payments to the correct RDO. So, my advice is to look at the map of the coverage of each RDO (there should be a big map at the RDO) to check if indeed the property falls within the jurisdiction of the said RDO.
Mandatory Requirements
For a sale of real property considered as a capital asset subject to capital gains tax (CGT), the mandatory requirements are as follows:
Tax Identification Number (TIN) of buyer and seller [If one of them does not have a TIN, get a TIN by filling out and submitting BIR Form No. 1904]
Notarized Deed of Absolute Sale/Document of Transfer. Bring the original and at least two photocopies. The photocopies will be compared against the original and the BIR will
…